Hudson's Patented Process with Modifications
And Other Chloride Methods

by Various Researchers
---
---
---
Some photos of the Hudson process
by M
---
The g-orme Cl solution is forest green in HCl with NaCl.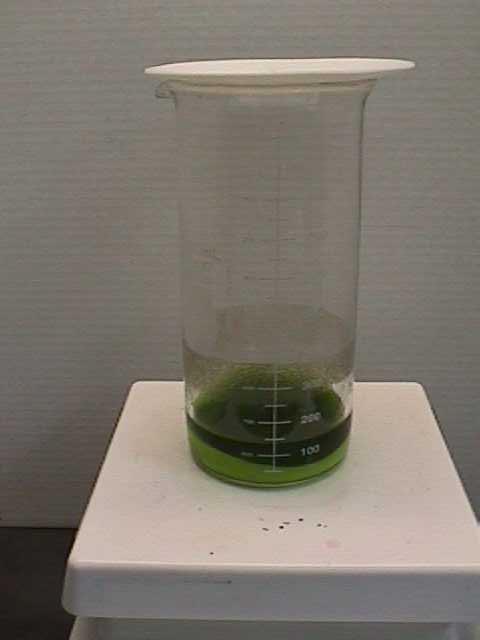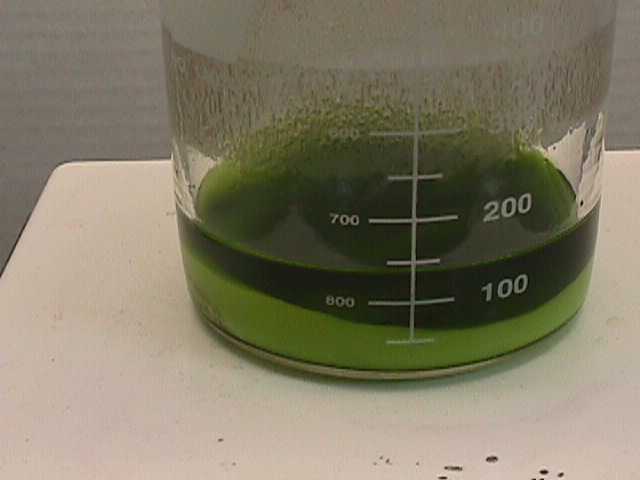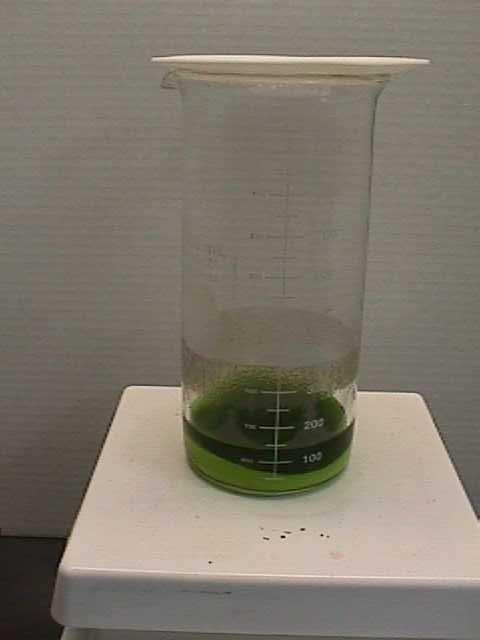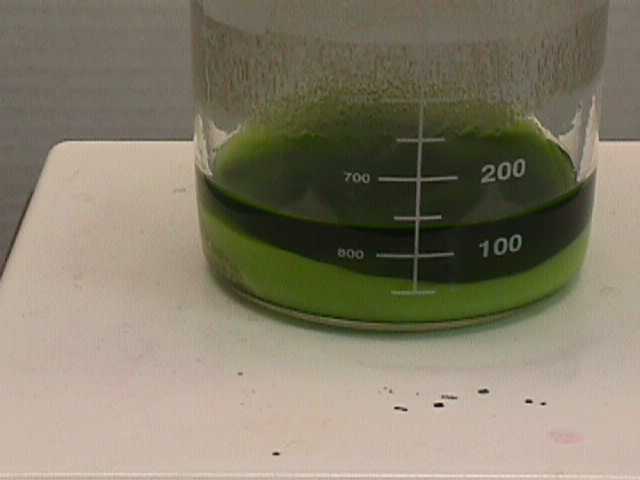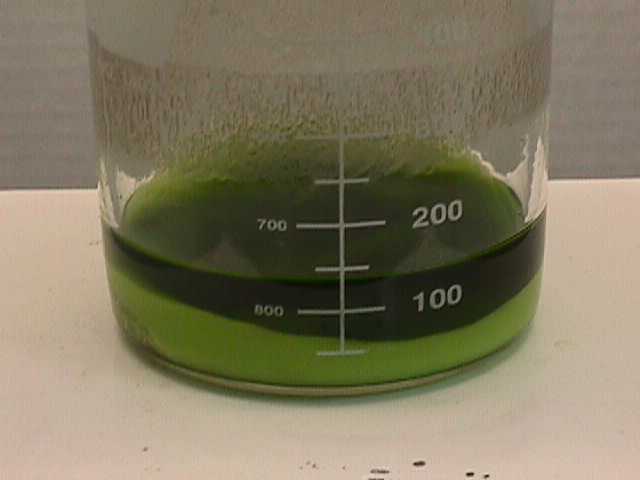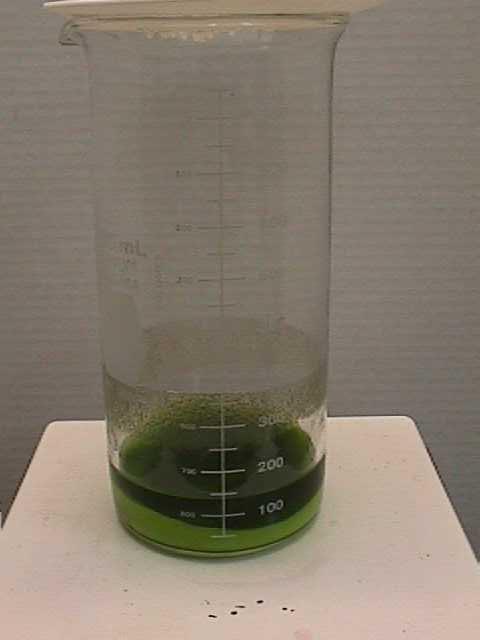 The HAu is a gray powder.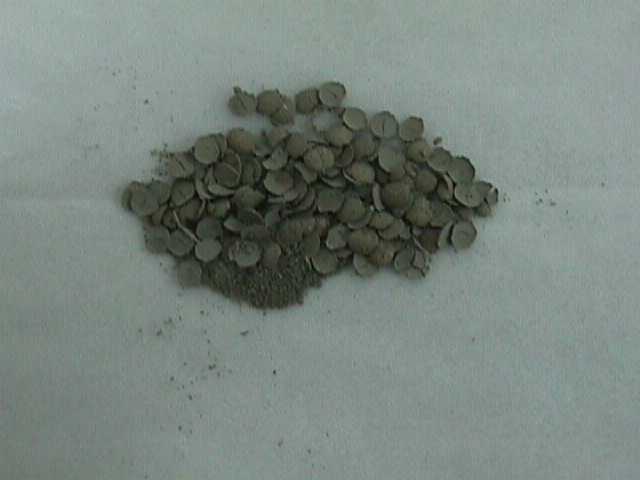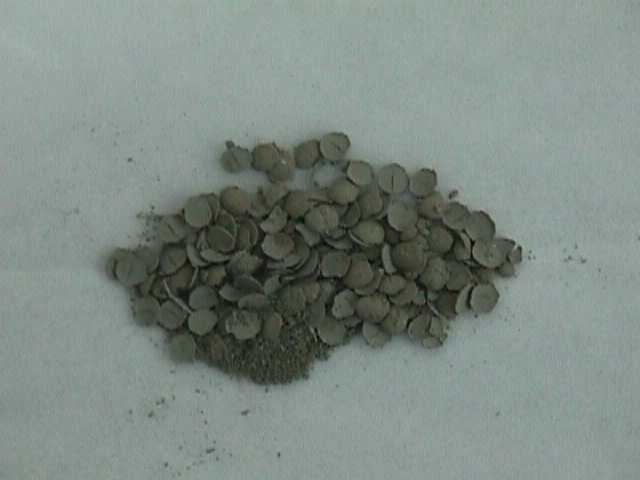 Hudson's annotated process
By Ron Talmage
---
I have placed notes within the Hudson Patent Method, I have not edited the Patent Method to reflect the changes in fluid volumes nor minor procedure changes.
I have deleted some steps that are in the notes and also some of those that are bypassed due to changing procedure. The patent method was intentionally made in such a manner, that it did work, but was pitted with problems / pitfalls & unnecessary steps that led to more problems / pitfalls.
Preparation of G-ORME
G-ORME was prepared from metallic gold as follows:
(1) 50 mg gold (99.99% pure) were dispersed in 200 ml aqua regia to provide clusters of gold atoms.
I am currently making a batch whereby I started with (stiff mix aqua regia)1000 ml of 70% Nitric Acid and 2000 ml of 37.5% Hydrochloric. I also have provided cooling to the flask to prevent temps above 70 F during the dissolving process of 33 grams of gold. (You may want to note that I am working with large flasks 4000 & 6000 ml, and thick walled vacuum flasks.)
I also have started a drip of a stiff NaOH solution with 280 ml total to be added before first boil down.
Boil downs should be as gentle as possible, I.E. vapor coming off of top of liquid, tiny or no bubbles.
Next perform boil down to the point where salts are formed, but not all the way dry. (David Hudson verified that his definitions of boil was gentler than most peoples and his definition of just dry still contained moisture. This has been verified as being correct path from other's)
Then add more aqua regia solution, and repeat with adding NaOH . The repeated dissolving in Aqua Regia and the Addition of NaOH in solution has the effect of breaking down the gold clusters faster and preventing their recombining. [Use care to vent the fumes somewhere else from the start.] Minimizing the gold metal fall back from the start with the addition of Na is an improvement. Here is a improvement in evidence ( I believe). When I dissolved the Au in the Aqua Regia, it was a very dark cherry red (darker as more gold was dissolved) to start with instead of clear like usual, this indicates to me that the particle size is smaller. I do not have a Merk Index on hand, but do understand that the color changes with particle size and the other elements present.
Then after you have finished your third Aqua Regia boil down proceed to step 2.
[Small amounts of HAu'X'H2O will be formed with each boil down, making the boil downs as gentile as possible will help to keep them in the flask, recondencing the off gases in a separate flask and lowering there pH to 7 will provide small amounts of HAu'X'H2O to be added to the solution during step 9.]
[Gold metal that has been dissolved with aqua regia, and subsequently converted to gold chloride by repeated evaporation with HCl to remove nitrates, is commonly referred to as the acid chloride solution of AuCl3 or HAuCl4. It has been recognized that the recovery of gold metal from a solution formed from aqua regia is made more difficult in proportion to the amount of HNO3 used in the initial dissolution procedures. It is not commonly understood, however, why the gold that is dissolved with less HNO3 is easier to reduce to the metal from a chloride solution than gold that is dissolved using a greater amount of HNO3. Gold in both solutions is generally regarded as being present in the form of a free gold cation.
From the study of the behavior of gold and other transition metals in solution, it is now believed that all such metals have atomic aggregations and occur as at least diatoms under normal conditions of dissolution . Under either acid or strong base dissolution, the transition metal will not normally dissolve beyond the diatom due to the extremely strong interatomic d and s orbital bonding. A gold atom, for example, has a single atom electron orbital configuration of d10s1. When the gold salts originate from a metal having gold-gold bonding, the salts contain very tightly bound diatoms or larger clusters of gold. Under the normal aqueous acid chemistry used for transition metals, solutions of the metals will always contain two or tore atoms in the cluster form.
It is now recognized by most chemists who regularly handle chlorides of gold that gold metal ceases to disaggregate when the HNO3 is removed and in fact can reaggregate under certain conditions and precipitate out of HCl solutions as metal. This recognition has led to the discovery that gold metal salts will exist in HCl solutions originating from metals as clusters of Au2Cl6, Au3Cl9,]
(2) 60 ml concentrated hydrochloric acid were added to the dispersion and the mixture was brought to boil, and continued boiling until the volume was reduced to approximately 10-15 ml. 60 ml concentrated HCl were added, and the sample brought to boil and checked for evolution of NOCl fumes. The process was repeated until no further fumes evolved, thus indicating that the nitric acid had been removed and the gold had been converted completely to the gold chloride.
[Adding 2000 ml of NaOH solution prior to adding HCI (sufficiently to lower pH to 2 or less) is the next key to a faster break down. Swings in pH have been found to break apart the gold clusters faster than boil downs alone.] August did boil downs to about 40 days to get the green chloride solution. If we can make a color change with each pH swing and boil down, then it will be a lot faster.
[An aqua regia solution of metallic gold is prepared. This solution contains clusters of gold chlorides of random size and degrees of aggregation. HCl is added to the solution and it is repeatedly evaporated with a large excess of NaCl (20:1 moles Na to moles Au) to moist salts. The addition of NaCl allows the eventual formation of NaAuCl4/, after all HNO3 is removed from the solution. The sodium, like gold, has only one unpaired S electron and, accordingly, tends to form clusters of at least two atoms. The sodium, however, does not d orbitally overlap the gold atom as it has no d electrons, resulting in a surface reaction between the sodium atoms and the gold atoms. This results in a weakening of the gold-gold cluster stability and causes the eventual formation of a sodium-gold linear bond with a weakened d orbital activity in the individual gold atoms. The sodium-gold compound, formed by repeated evaporation to salts, will provide a chloride of sodium-gold. In these salts the sodium and gold are believed to be charged positive, i.e., have lost electrons: and the chlorine is negative, i.e., has gained electrons. When the salts are dissolved in water and the pH slowly adjusted to neutral, full aquation of the sodium-gold diatom will slowly occur and chloride is removed from the complex. Chemical reduction of the sodium-gold solution results in the formation of a sodium auride. Continued aquation results in disassociation of the gold atom from the sodium and the eventual formation of a protonated auride of gold as a grey precipitate. Subsequent annealing produces the G-ORME. The G-ORME has an electron rearrangement whereby it acquires a d orbital hole or holes which share energy with an electron or electrons. This pairing occurs under the influence of a magnetic field external to the field of the electrons.]
(6) Sodium chloride is added in an amount whereby the sodium is present at a ratio 20 moles sodium per mole of gold. The solution is then diluted with deionized water to a volume of 400 ml. The presence of the aqueous sodium chloride provides the salt Na2Au2Cl8. The presence of water is essential to break apart the diatoms of gold.
I do not believe that the NaCl concentration is a major factor, it does need to be high, but I believe that it can be significantly lower than Patent states. The addition of NaCl appears to be a way of adding Na while preserving the Cl in the solution which is lost with each boil off. Having a lot of salt in the mix is key to reducing the particle size of the Au. After all we are trying to achieve NaAu which will transition to HAu'X'H2O when the pH is brought below 12 to neutral.
(7) The aqueous sodium chloride solution is very gently boiled to a just dry salt, and thereafter the salts were taken up alternatively in 200 ml deionized water and 300 ml 6M hydrochloric acid until no further change in color is evidenced. The 6M hydrochloric acid is used in the last treatment.
Obtain forest green colored solution by combination of pH swings and boil downs before proceeding. A forest green color may be obtained before steps 6 & 7 which allows them to be eliminated
(8) After the last treatment with 6M hydrochloric acid, and subsequent boil down, the just dry salt is diluted with 400 ml deionized water to provide a monoatomic gold salt solution of NaAuCl2'XH2O. The pH is approximately 1.0.
This is forest green solution.
Here are brief descriptions of the Pic's.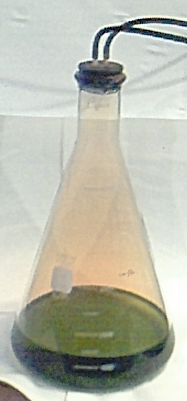 GreenFlask4000.JPG
I have a funny observation and question. In the boil down process, it seems that the color gets lighter when the liquid approaches 1400 ml from the approx 3300 that I start the boiling down at. It seemed very dark around 2000 ml this time around. The Flask as you see it contains close to one oz of Au and has been brought up and down several times in pH with NaOH solution and Aqua Regia (strong mix 50/50), and boiled down a couple of times. There is a nice light brown gas inside the flask at present, I have the bottom of the rubber stopper covered with PTFE to protect the rubber. The hose's are PP plastic I believe and seem to hold up fairly well to the kings water. You asked for a white background and it is bright white 24lb paper under and around the Flask. It's a 4000 ml flask from corning. With the initial gold dissolving into a cherry red liquid. I scorched the salts once and dissolved them all over again, and decided to discount the prior boil downs because of the scorch. The flask is slightly tilted towards the front in the pic. Any Idea why it gets lighter when the fluid level gets close to 1400 ml? Sorry the pic is not better, it is a cheap camera, and the lighting was not real good in that part of the lab.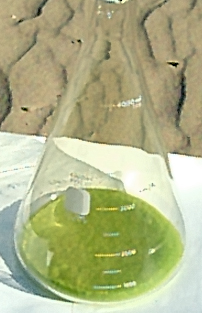 JustDrySaltLightened is lightened due to the sun setting and there being low light.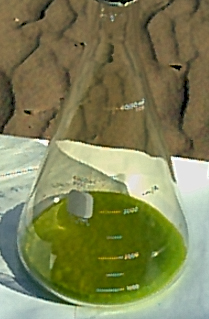 JustDrySaltUnaltered is the same pic without the color lightened.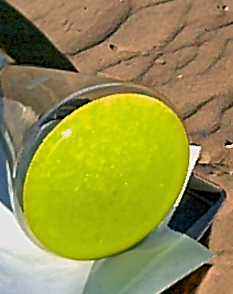 NoScorchBottom shows the bottom of the flask with no scorching of salt, the secret of doing this is even heat, this is derived by using a sand box that the flask sits in while being heated. It's an old trick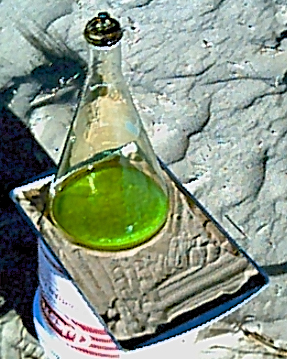 EvenHeat.jpg shows an example of the portable Wizards Sand Box prior to putting it on the stove. Also to prevent ormus loss, I use a gas stove top much like August did.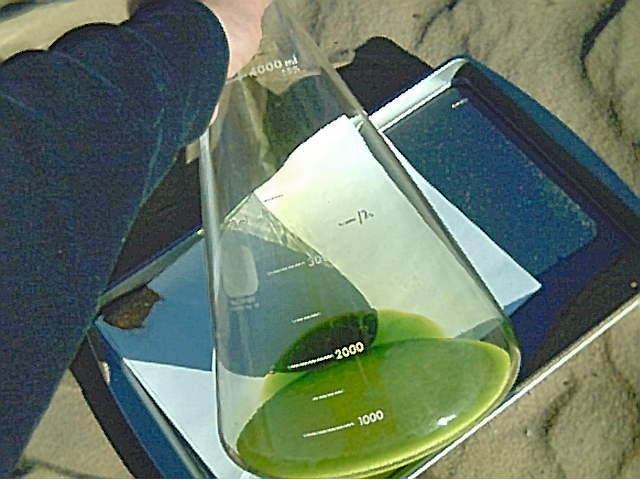 JustDrySomeLiquidLeft shows that if you put it on it's side for long enough some liquid will come out and how much.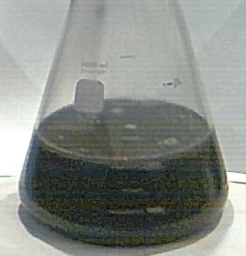 Titrated-NaOH is after the boil down, 500ml of distilled water is added and then titrated with NaOH solution. It gets real dark. And you can not see through it.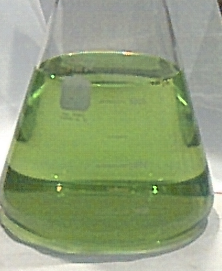 TitratedAquaRegia is after the NaOH and as you can see, the solution gets lighter and is transparent.
---