Prayers For Peace Park
Essene Retreat
29455 Pamoosa Lane, Valley Center, CA 92082
(760) 749-0881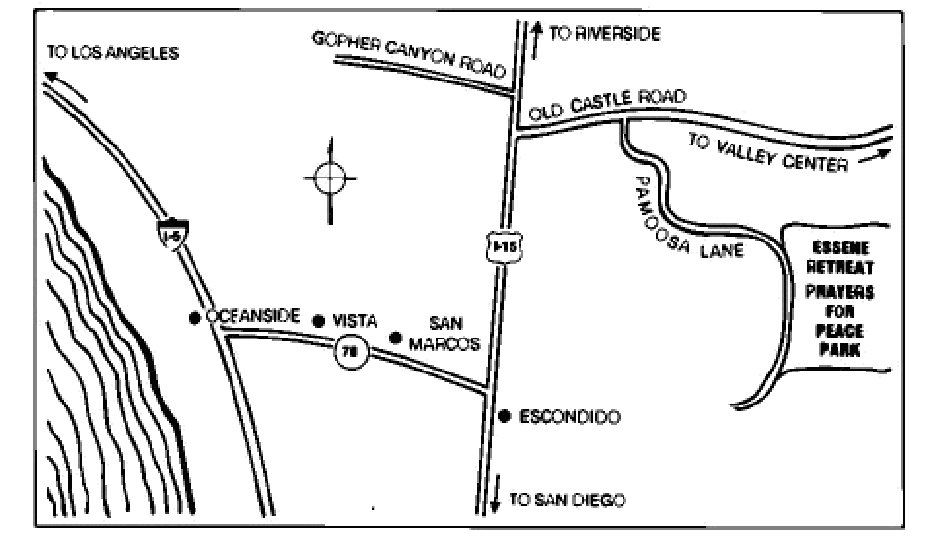 From Los Angeles area: South on Interstate 5, turn east on State Highway 78 to Escondido, north on Interstate 15 to Gopher Canyon & Old Castle Roads exit…
From Riverside area: Interstate 15 south to Gopher Canyon & Old Castle Roads exit…
From San Diego area: Interstate 15 north to Gopher Canyon & Old Castle Roads exit…
then ~ East on Old Castle Road 2 miles to Pamoosa Lane. Turn right on Pamoosa Lane ~ Follow signs to Old Castle Ranch ~ 1 mile to the Essene Retreat, Prayers For Peace Park.
Prayers For Peace Park
A secluded Retreat setting that once served as a ceremonial gathering place for ancient Indian Tribes. It is graced by Nature's embrace, situated beneath an oak grove in Moosa Canyon with views to sacred White Eagle Point.